Punch bowl commemorating George Washington
Staffordshire, England; 1776–1800

Earthenware (pearlware)
Bequest of Henry Francis du Pont 1959.777
This English punch bowl, made during the Revolutionary War or fairly soon thereafter, illustrates the "all's fair" approach taken by merchants and consumers on either side of theAtlantic. It is a fitting tribute to Washington, who continued to be referred to as "General" throughout his life.

G. WASHINGTON in his last Illness attended by Doc.rs Craik and Brown
Pember and Luzarder (publishers)
Philadelphia, Pennsylvania; 1800–1805
Ink, watercolor on wove paper
Museum purchase 1959.46.2
Following Washington's death, on December 14, 1799, hundreds of commemoratives were created for the grieving American populace. In this print, the hero is shown on his deathbed being cared for
by doctors. A decanter with a "Port" label hug around the neck sits on a nearby table, for medicinal use. 
Below, a rhyme laments,
Americans behold & shed a grateful Tear
For a man who has gained yo.r freedom most dear
And now is departing unto the realms above
Where he may ever rest in lasting peace & love. 
Cider jug commemorating George Washington
Jingdezhen, China; 1800–1820
Porcelain
Inscribed "ET"
Bequest of Henry Francis du Pont 1963.822a,b
This elegant vessel, like many jugs made around 1800, was part of a matched pair. The hand-painted portrait of George Washington includes fine "hatched" lines, indicating that the Chinese craftsman who made it was replicating a print. In this case, the print was David Edwin's engraving, created in Philadelphia after a painting by Gilbert Stuart. The "ET" initials refer to Philadelphia lawyer Edward Tilghman, who received the jug as a gift from his uncle, successful China Trade merchant Benjamin Chew Wilcocks.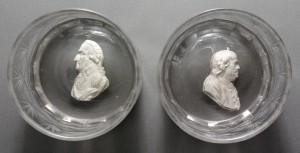 Tumblers commemorating George Washington and Benjamin Franklin
Bakewell, Page & Bakewell factory
Pittsburgh, Pennsylvania; about 1825
Glass (lead, sulphide)
Inscribed "MAS"
Gift of Nellie B. Kelly in memory of Hugh Williamson Kelly 1987.128; Museum purchase 1957.76.1
Tumblers, sometimes made as a part of sets that included decanters and wineglasses, were used to serve brandy and other alcoholic beverages. The ones shown here are decorated with silvery-looking "cameo incrustations," or "sulfides," which were inserted into glassware during formation. The Bakewell factory also created incrustations honoring Lafayette, Andrew Jackson, and other popular heroes and performers. The engraved "MAS" represents the name of the original owner.
Jug commemorating George Washington

United States; 1810–40
Stoneware (salt glaze)
Inscribed "G. WASHINGTON/ FOR. EVER"
Museum purchase 1961.162
Although this low-market vessel might have held a variety of liquids, the toast-like inscription on the side suggests it was used for alcohol. Notice that rather than our first president, the relief image portrays Christ, further deifying America's favorite hero, George Washington.
Related Themes: