The profound pride in American on the parts of residents, following the Revolutionary War, cannot be overstated and would continue throughout much of the following century.  This sentiment was reflected in the forms of inscriptions and decorative motifs on objects associated with wine and other alcoholic beverages. Eagles, imitating those on several versions of the Great Seal of the United States, were especially popular.
BROTHER JONATHAN Administering a Salutary Cordial to JOHN BULL.
William Charles
Probably New Haven, Connecticut, or Philadelphia, Pennsylvania; about 1813
Ink, paint on wove paper
Museum purchase with funds provided by Caroline Clendenin Ryan Foundation 1963.154a,b
This print was almost certainly inspired by the popular book The Diverting History of John Bull and Brother Jonathan (1812). The fictitious Bull was the creation of English satyrist John Arbuthnot and commonly symbolized England. Similarly, Brother Jonathan (perhaps inspired by Jonathan Trumball, Governor of Connecticut) represented America. In the scene here, Brother Jonathan tries to force "perry"—a drink made from fermented pears—down John Bull's throat.
"Liberty" mugs
Bohemia (Czech Republic); 1783–95
Glass (nonlead)
Inscribed "Liberty"
Gift of Mr. & Mrs. John Herdeg in memory of Donald Fell & Louise Coolidge Carpenter & Marcus Allen & Ethel Warren Coolidge 1996.27.1-.3 
Decanter
Possibly Pittsburgh, Pennsylvania; 1810–30
Glass (lead)
Bequest of Henry Francis du Pont 1963.875
The white-glass "Liberty" mugs shown here, made by European entrepreneurs catering to a new and patriotic American market, were appropriate for serving punch, beer, and other beverages. Although these may not form a true set, groupings of three matched and graduated mugs were popular during the decades around 1800. The colorless glass decanter would have appealed to a high-end market and displays a more accurately engraved portrayal of the Great Seal.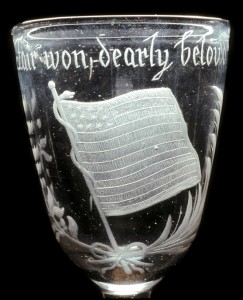 Wineglass
Possibly Baltimore Glass Manufactory
Possibly Maryland; 1814–15
Glass (nonlead)
Inscribed "Fair won, dearly belov'd"
Gift of Mr. and Mrs. Norton Asner 1971.137
The inscription and American flag on this wineglass may celebrate the successful defense of Fort McHenry, which guarded the entrance to Baltimore Harbor as it was attacked by the British Navy in 1814. That engagement, observed by Francis Scott Key, was the inspiration for the Star-Spangled Banner.
Punch bowl
Salamander Works
Woodbridge, New Jersey; probably 1837
Stoneware
Inscribed "J. K. GROSVENOR"
Bequest of Henry Francis du Pont 1959.1937
The rim of this bowl bears the name of the original owner, Jasper Grosvenor of Paterson, New Jersey, and probably dates to 1837, when Jacob Rogers, Morris Ketchum, and Grosvenor completed the "Sandusky"—their first locomotive engine. The very first American-made locomotive was called "The Friend of Charleston" and was built in South Carolina in 1831. 
Cistern or water cooler
Perth Amboy, Middlesex County, New Jersey; dated 1853
Stoneware (salt-glazed)
Inscribed "T. Whiteman" and "1853" (three times)
Bequest of Henry Francis du Pont 1959.1926
In addition to a patriotic American eagle, this cistern has plant and bird motifs traditionally associated with goodwill and Plenty. The fish on the back may symbolize drunkenness. Large vessels with spigots have long been used to dispense water, wine, and other alcoholic beverages. The date and name "T. Whiteman" may celebrate a particular occasion in his life.  
Related Themes: