From the 1600s onward in America and England, those who wished to go out for a drink could choose from several types of public houses. Alehouses provided ale, beer, and sometimes snacks and were popular among the less-moneyed classes. Taverns served wine, other beverages, and often food and also sold alcohol in bottles or small vessels for resale or "take-away." Some inns served wine, beer, ale, cider, and food, offered accommodations, and provided stabling for horses. The term restaurant, for a dining establishment, became more common in the 1800s, and, like inns and taverns, restaurants needed special licenses to serve wine.
Ideally, public houses would be located in urban centers or along important roads and waterways. Some in rural areas were in private homes, with the business identified by a sign outside. Tavernkeepers in cities more often rented, rather than owned, a building for their place of business, which they furnished simply. Some higher-end establishments did offer elegantly fitted-out, rentable private rooms for special events such as dances, club meetings, or meals.
Licensing often dictated the number of public houses that could operate in any one town as well as the types, the prices and quantities of drink and food, and the costs of other services. Payment by local patrons might be in coin or by trade, with bartered farm produce and home-made wines and ciders then being served to guests. By the mid-1700s, many public houses offered a growing range of beverages, as they encountered increased competition from specialized stores that sold off-premises wines and spirits. 
SETTLING the AFFAIRS of the NATION
Bowles and Carver
London, England; 1794–1800
Ink on laid paper
Museum purchase 1973.561
In this rare view of the interior of an English inn or tavern, a soldier converses with three patrons about a paper inscribed "The Kings Speech." A barmaid is seen speaking with a man holding a coffeepot and shaving bowl. Behind her are punch bowls, some of them stored upside down for cleanliness, and decanters or bottles initialed to reflect their contents: sherry, brandy, and rum. A small cask of gin sits on the counter. The leafy decorations in the window and hanging from the center of the room probably identify the season as Yuletide.
Life in London; or, The day and night scenes of Jerry Hawthorne, esq. including "Tom & Jerry taking Blue Ruin" and "Tom & Jerry 'Masquerading it' among the Codgers" (opp. pp. 178, 346)
Pierce Egan (author), I. R. & G. Cruikshank (illustrators)
London, England: Sherwood, Neely and Jones: 1821
Printed Book and Periodical Collection, Winterthur Library PR4649 E28ℓ 
This entertaining and popular satirical novel, also known as Tom and Jerry, tells of the wealthy orphaned Corinthian Tom who, accompanied by his country cousin, Jerry Hawthorn, learns of London high life under the tutelage of Bob Logic. Tom takes a mistress, Corinthian Kate, and leads a debauched life visiting wine purveyors, taverns, and gin shops such as "The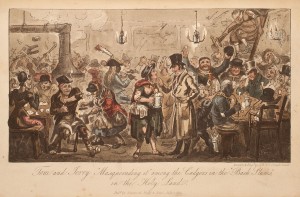 Sluicery," where he drinks "Blue Ruin," another name for gin. He also attends theaters, brothels, and gaming and sporting events around London. Nearly 40 beautifully detailed illustrations tell the story, complete with fold-out sheet music. Several plays inspired by the same characters were successful in England and America.
Printed bill for Cromwell's Head Tavern
Paul Revere
Boston, Massachusetts; dated November 1771
Joseph Downs Collection of Manuscripts and Printed Ephemera, Winterthur Library Col. 71 86×85
Cromwell's Head Tavern, located at 13 School Street in Boston, is said to have hosted George Washington two decades before the American Revolution. For about 50 years the establishment was run by the Brackett family, and the bill shown here is one of several created for Joshua Brackett. On at least two versions of the bill, one dated 1768, room and board fees are differentiated from those for dining and alcohol. In turn, the beverages are separated into four primary types: Wine, Punch, Porter, and Liquor. Signed "P Revere [s]c," this is one of few surviving examples of Revere's many engraved billheads and trade cards. He is much better known for his elegant silver work. The reverse of the bill is inscribed "Paid Nov 1771."
"Sailors Farewell" fireplace or wall tile
John Sadler (printer)
Liverpool, England; 1757–61
Earthenware (delftware)
Inscribed "K. of Prussia" (inn sign)
Bequest of Henry Francis du Pont 1961.944
"Sailors Farewell" dinner plate
Probably Staffordshire
John Sadler and Guy Green (printers)

Liverpool, England; dated 1769
Earthenware (creamware)
Inscribed "K. of Prussia" (inn sign) and "IOHN & SARAH ARTIS,YARMOUTH, 1769"
Bequest of Henry Francis du Pont 1957.95
In this rare pairing, the same transfer-printed design is seen on a delft tile and on a later creamware dinner plate with the owners' names in hand-painted enamels. The scene hints at time spent apart by the couple. Other delft tiles bearing the same subject show the inn sign inscribed "Lion of Scotland" rather than "K. of Prussia." Another King of Prussia Tavern was located in 18th-century Philadelphia.
Small plate portraying Mendenhall Inn and Ferry
Joseph Stubbs factory
Staffordshire, England; 1808–10
Earthenware (pearlware)
Bequest of Henry Francis du Pont 1958.1890
The blue-printed plate shows the popular Mendenhall Inn as well as the rope-pull ferry on the Schuylkill River, near Philadelphia. In the distance are the homes of Joseph Sims and Dr. Philip Physick, a famous surgeon. Plates printed with American scenes were a popular export from Staffordshire in the 1800s.

Tavern sign
Suffield, Connecticut; dated 1815
Wood, paint, iron
Inscribed (twice) "T. Archer's 1815"
Bequest of Henry Francis du Pont 1959.1697
In a 1905 Connecticut Magazine article titled "Reminiscences of Old Negro Slavery Days" by Judge Martin H. Smith of Suffield, Connecticut, the author relates a story toldby a former slave named Titus. In a discussion of the town's glory days, we are told that George Washington visited during his second term as president and stayed for two days.
He spent the night at Archer's Tavern, the best of the dozen inns in the town, and report says there were high doings, certainly a dance with the general [Washington] opened, and there was more flip [a sweetened and spiced beer mixture] than a less occasion would justify.
The date on the sign postdates Washington's visit and may refer to some other important occasion or the relocation of the establishment.  Beneath the eagle and sun motifs, it is possible to discern older grapevine in landscape designs.
Winter scene with tavern
Thomas Birch
Philadelphia, Pennsylvania; 1846–50
Oil on canvas
Inscribed "No 58 Snow Scene in Bucks Co. Penn [?] / Tavern in the distance, Sleighing party / & figures in the road / . . . by Thos. Birch" (back of stretcher)
Gift of Henry Francis du Pont 1959.2982
English painter Thomas Birch arrived in America in 1794 and worked with his father, William, to create a series of identifiable engravings entitled "Views of Philadelphia." In contrast, the country tavern seen here is unidentifiable except for the inscription on the back of the stretcher stating the location as Bucks County. Also on the back is the stenciled inscription "W.E. Rogers / 16 / Arcade/ Philad," presumably identifying a merchant.
Jug or pitcher
Staffordshire or Liverpool, England; 1795–1805
Earthenware (creamware)
Inscribed: "GREEN TREE GERMAN TOWN" and "RM"
Gift of S. Robert Teitelman 2009.21.7
This important creamware jug includes printed patriotic motifs as well as a hand-painted scene commemorating the Green Tree Inn of Germantown, near Philadelphia, and a portrait of Rachel Macknet, whose initials appear below the pouring lip. Rachel was the wife of one of the owners of the inn. It is thought that then-Secretary of State Thomas Jefferson stayed at the inn in 1793, when the threat of yellow fever caused the evacuation of Philadelphia.
Blackjack
William Slodden
Bristol, England; 1764–1800
Leather, silver
Rim inscribed "C/WS" and "Ex Dono Amici" (gift of a friend)
Museum purchase 1992.11
Alternatives to ceramic jugs were also available during this period. The "blackjack" shown here is in a material known as cuir bouilli (boiled leather), which called for soaking the leather until it was fully saturated and then stretching it over a form or mold. According to oral tradition, this vessel was found in the 1950s in an abandoned building on Swan's Island in Maine. Blackjacks are often associated with tavern use but were also found in domestic settings.
Menu for Franklin House
William Molineaux
New York, New York; dated June 25, 1840
Joseph Downs Collection of Manuscripts and Printed Ephemera, Winterthur Library Col. 214 77×36
Trade card for the Lindall Dining Room & Lunch Rooms
Probably Boston, Massachusetts; about 1876

Inscribed "9 &11 EXCHANGE PLACE, / (Opposite Merchant's Exchange.) / THOMAS H. SMITH, Proprietor."
Joseph Downs Collection of Manuscripts and Printed Ephemera, Winterthur Library Col. 9 68×164.595
The 1842‒43 New York City Directory lists the Franklin House at 195 and 197 Broadway. On the menu for the restaurant, special offerings for the day have been written in by hand.
Generic trade cards, like that used by the Lindall Dining Room, hinted at an establishment's elegance with images of wine, exotic foods such as oysters on the half-shell, and drinking or dining accoutrements. Blank spaces in the design allowed for the addition of restaurant names and addresses. The reverse of this card provides a detailed list of the types of oysters available.
Tumbler portraying Jenny Lind
New England or Pittsburgh, Pennsylvania; 1850–55
Glass (lead, sulphide)
Inscribed "Jeny Lind"
Museum purchase 1978.43
Bottle portraying Jenny Lind
Milford Glass Works of W. C. Lippincott and Company

Evesham Township, New Jersey; 1851–52
Glass (nonlead)
Inscribed "JENNY LIND" and "MILLFOR[D]. G. WORK'S"
Gift of Mrs. Harry W. Lunger 1973.429.1
Musical evenings out on the town are commemorated on some alcoholic beverage wares. The ones shown here honor the opera singer Jenny Lind. "The Swedish Songbird"—already famous in Europe—performed across America in 1851 on a tour organized by showman P. T. Barnum. Upon completion of the tour, Lind donated her $350,000 in earnings to charity.
The engraved "Jeny Lind" tumbler bears a silvery white "sulphide" portrait that is actually a picture of a French aristocrat named Marie de Rabutin-Chantal Sévigné. The bottle carries a true portrait of Lind, probably based on a published image. The opposite side depicts an industrial building representing the manufacturer, Milford Glass Works.
Punch bowl showing Vauxhall Gardens and London Foundling Hospital
Jingdezhen, China; about 1800
Porcelain
Gift of Leo A. and Doris C. Hodroff 2000.61.75
London's Vauxhall Gardens was perhaps the most famous elite venue in England for outdoor drinking, dining, and entertainment in the late 1700s and early 1800s. The scene of the gardens on the punch bowl reproduces a circa 1750 print by John Sebastian Muller, after Samuel Wall. The Foundling (Orphan) Hospital, on side two of the bowl, copies a similarly
datable London print by Robert Wilkinson. A bowl like this one survives at the hospital and may indicate that the institution's prominent supporters, including William Hogarth, Sir Joshua Reynolds, and George Frederick Handel, attended musical evenings at Vauxhall Gardens. One Handel concert there raised £7,000 for the hospital.
Turf Inn door panel
England; 1780–90 (textile)
Winterthur or New York; 1946–69 (panel made)
Cotton, linen
Bequest of Henry Francis du Pont 1966.1082.1
Little is known of this image sequence, but it was probably inspired by a series of prints. "THE TURF INN" shows spectators at a horse race buying food and drink. Drinking and sporting events at the time were not condoned. The 1778 "act for the suppression or vice and immorality" presented by the General Assembly of Pennsylvania states that conviction and a fine of £20 will be the penalty for
any public housekeeper, or other retailer of strong liquors, [who] shall promote or encourage any horse race, cock fight, bullet match, shooting match, or other such idle sport; or shall sell any rum, wine, whisky, beer, cyder, or other strong liquors . . . to any person or persons assembled [. . . ] within his house, or in any place under his command.
The Pennsylvania Packet, September 3, 1778
Jug or pitcher
Probably Staffordshire; 1815–30
Earthenware (yellowware)
Gift of Mrs. Jack L. Leon, in memory of Jack L. Leon 1983.51
The inspiration for a portion of the scene of peasants drinking may have been a painting known as The Slaughter Feast by Belgian artist Adriaen Brouwer (1605–38).  In that scene, a similar figure has fallen asleep (?) over a barrel.  The earliest examples of the scene on English ceramics may be on 1780s pearlware plaques by Ralph Wood.
Related Themes: