Wine and other alcoholic beverages have commonly accompanied card playing and other games of chance, whether at home or as part of a night out on the town. In some cases, "trick" drinking vessels themselves were a part of the entertainment. They could make a drinker smile but also leave him the butt of his friends' joke. Some jugs were made with holes that caused a beverage to spill. Others featured painted or three-dimensional animals or figures that slowly emerged at the bottom of the vessel it was drained.
From at least medieval times, puzzle jugs were being produced. They varied in design, but almost all featured a pierced neck (making pouring impossible), a nozzled hollow rim and tubular handle, and one or more additional holes. The game was to successfully drink the contents by covering certain holes and extra nozzles on the rim to get suction. The liquid could then be drawn up to the nozzle through the straw-like handle.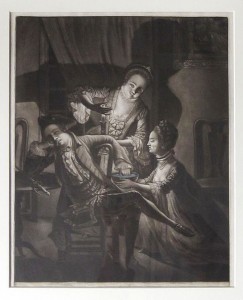 The Curious Maids
John Greenwood
England, London; probably 1768
Ink on laid paper
Promised gift of J. Thomas Savage
Some games never change! In this hand-colored mezzotint, young ladies play a trick on a drowsy young man by holding his hand in a punch bowl full of presumably warm water. To emphasize the joke, the only portion of the image to be tinted is the blue water within the bowl. This print is thought to be a proof for one published by Robert Sayer that is dated February 17, 1768. The lower margin on that version reads:
The Curious Maids.
Les Filles Curieuses.
In prime of Youth what Funny Tricks
Are often play'd by either Sex!
The Tales they've heard their Nurses say
They put in Practice Day by Day.
Forbear dear Girls! for Pity's sake
Have Mercy on a Sleeping Rake!
As in the Bowl his Hand you've got.
You'll make him soon do – You know what.
"A GAME OF WHIST" from Life in London: or, The day and night scenes of Jerry Hawthorne, esq., opp. p. 320
Pierce Egan (author), I. R. & G. Cruikshank (illustrators)
London, England: Sherwood, Neely and Jones, 1821
Printed Book and Periodical Collection, Winterthur Library PR4649 E28ℓ
This illustration is one of many from the popular satirical novel commonly known as Tom and Jerry. Here, Corinthian Tom, his cousin Jerry Hawthorn, and his self-proclaimed tutor Bob Logic are served wine as they play a game of whist.
Punch bowl
Probably The Netherlands; 1750–75
Earthenware (delftware)
Bequest of Henry Francis du Pont 1959.2544
Dishes and vessels decorated with playing cards were made in porcelain and earthenware at several English and continental European factories. Based on the unsophisticated painting style of the cards seen here, the bowl was intended for a middling-income market. Fragments of similar bowls have been excavated at Strawbery Banke in Portsmouth, New Hampshire, and in Charleston, South Carolina.
Beaker or tumbler with dice in base
Probably Bohemia (now Czech Republic); 1771–92
Glass (nonlead)
Inscribed "GIII"
Gift of Dr. Thomas M. McMillan III 2006.3.47
The "GIII" on gaming glasses like this continental European one are believed to refer to Gustav III of Sweden. The tiny white dice in the base tumble when the glass is shaken.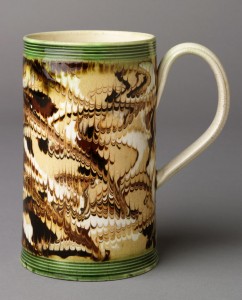 Frog mug
Probably Staffordshire, England; 1775–1810
Earthenware (dipped ware)
Gift of Osborne R. and Mary M. Soverel, given in memory of Lillian Wilkinson Boschen 1992.40
The interiors of some mugs contain surprises. This marbled and combed, slip-decorated mug has a frog figure in the bottom that would have appeared as the drinker emptied the mug.
Frog mug 
Probably Staffordshire, England; 1775–1810
Earthenware (dipped ware)
Promised gift of Barbara Katz
This two-handle cup features a bright blue slip ground with so-called earthworm (or cable) and cat's eye motifs.  On the interior, three white pierced frogs have been mounted. The holes in them would have produced a whistling sound as the beverage was consumed.
Fuddling cup
London or Bristol,England; 1650–1700
Earthenware (delftware)
Bequest of Henry Francis du Pont 1964.690
Since at least the 1600s, the word fuddle or fuddled has been a generic term to describe alcoholic beverages and the minds of those who drank too much. Associated with drinking games, fuddling cups are made of three to twelve (or even more) joined vessels with holes that allow liquor to flow between them. Some have inscribed drinking rhymes, good wishes, initials, or dates.
Puzzle jugs
The Netherlands; 1650–70 (left)
Probably Liverpool, England; 1750–70 (right)
Earthenware (delftware)
Bequest of Henry Francis du Pont 1962.600; Bequest of Howard W. Gross 2008.34.5
Puzzle jugs were made for for drinking games and featured nozzled, hollow rims joined to the belly by a tubular handle.  Such vessels were produced in many ceramic types in England and continental Europe. The jugs shown here have hand-painted decoration and, on one example, a popular rhyme:
Here Gentlemen Come try yr Skill
[I'll] hold a wager if you will
that you Don't Drink this [liquor] all
Without you Spill or lett some Fall.

Puzzle jug
Probably Staffordshire, England; 1745–70
Stoneware (scratch-blue)
Bequest of Henry Francis du Pont 1958.929
The "scratch-blue" floral motifs on the salt-glazed stoneware jug were created by incising the unfired body and filling in the design with cobalt or zaffre. Similarly decorated stoneware has been excavated at colonial American sites.
Puzzle jug
Donyatt, Somerset, England; dated 1775
Earthenware (slipware)
Inscribed "this and the / gever is thine / for ever" and "1775 / SW"
Bequest of Henry Francis du Pont 1960.620
This English sgraffito-ware (incised slipware) puzzle jug is a type that has often been misattributed to Pennsylvania German potters because of the style of the incised floral and bird designs. However, no-ornamented jugs are known to have been made by those craftsmen. The initials and romantic inscription on the jug identify it as a special commission.
Puzzle jug
Probably David Huber at the Henry Huber pottery
Niantic, Pennsylvania; 1865–70
Earthenware
Museum purchase with funds provided by Special Funds for Collection Objects 1980.66
The undecorated puzzle jug would have been produced for a local market and is attributed to Pennsylvania potter David Huber, in whose family the jug was passed down.
Puzzle jug
Probably Staffordshire, England; dated 1814
Earthenware (lusterware)
Inscribed "George, Hadder / ton, Acton Mill / 1814"
Gift in recognition of Mr. and Mrs. Arthur Gutman 1996.23.2
Lusterware imitating more-costly silver and copper was popular in America and England during the early 1800s. To create this high-style "silver luster" puzzle jug, a tarnish-proof platinum preparation was applied over the glazed pearlware body. The jug bears the original owner's name and a date, indicating it was a special commission for an English consumer. Within the cage-like center of the belly, a tiny lion figure peers out.
Related Themes: